Fin for the Press
The materials below are made available to news organizations and bloggers interested in Fin. Modification and reproduction of the materials below is allowed in stories, reviews, or posts about Fin and Joe Cieplinski. Non-editorial use of the materials below is prohibited.
What is Fin?
Fin is a timer built for live performers. Place an iPad, iPhone, or TV monitor with Fin running in front of your talent while performing, and they will always know how much time is left. If you run conferences, toastmasters meetings, music nights, or other kinds of live events, you'll appreciate how well Fin keeps your talent on schedule. And it makes a great rehearsal tool, too.
Key Features
Large numbers that are easy to read from across a room.
Three visual warnings which change the screen background color at times specified by the user. (Any of these three warnings can be switched on or off as you see fit.)
A custom message for when the timer runs out.
Dark and light themes to match your stage conditions.
The ability to count up or down, and switch between the two, even after you've started the timer.
An overtime counter that counts up after time is up, so you know exactly how long you've gone over. Perfect for rehearsals.
Option to hide seconds, so you only see hours and/or minutes remaining.
12 adjustable presets so you can easily switch between your most needed performance times.
iCloud sync of presets to all your devices.
Need to switch to another app while Fin is running? No problem. Fin will calculate the time even while you're gone.
Universal app for iPhone, iPad, or iPod touch. Works in both landscape and portrait modes on all devices.
Universal Purchase gives you iOS and tvOS versions for one price.
Apple Watch app allows you to control Fin for iPhone from your Watch
Pricing and Availability
Fin is available for iPhone, iPod touch, and Apple TV right now, exclusively on the App Store. A Universal purchase price of $4.99 USD gets you all versions for one price.
Icons
iOS
Apple TV
Apple Watch
Screenshots
iPhone
iPad
Apple TV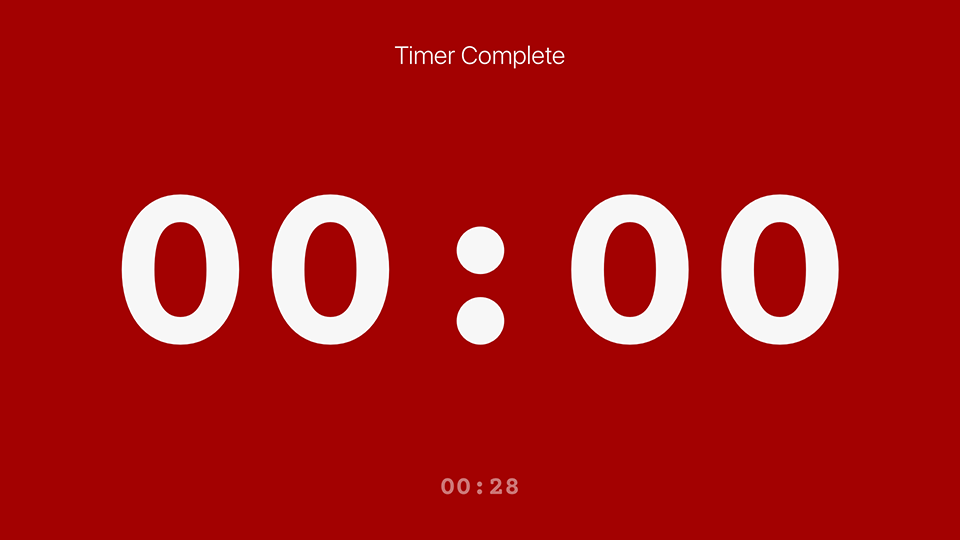 Apple Watch
Videos
About the Creator
Joe is happy to make himself available to any journalists, bloggers, or podcasters wishing to discuss his applications or the business of iOS app development. Get in touch via Twitter or email to schedule an appointment.